Because Faith is best taught and lived out in the family, the Church calls parents to be the first and foremost educators of their children.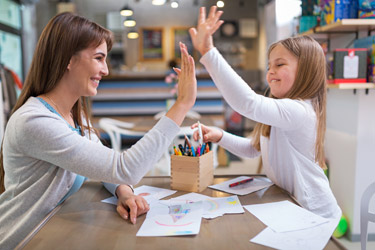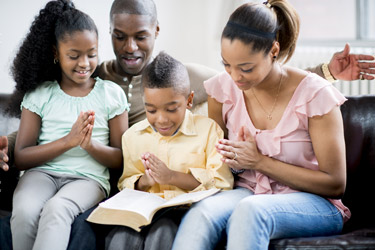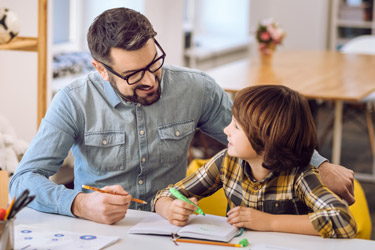 Why should parishes and families use a family catechesis program?
Children are more likely to put into practice the faith they see lived out day-to-day at home.
There is a receptivity and vulnerability to good formation which only happens in the early years of children's development, and only in the family. A family catechesis program helps families to embrace this time and use it to form their children well. Read more about the benefits of family catechesis »
A careful reading through the documents of the Catholic Church quickly reveals the Church's great expectations for the family. "The right and duty of parents to give education is essential ... original and primary ... and it is irreplaceable and incapable of being entirely delegated to others" [Familiaris Consortio, 36]. Christ and His Church call parents to be "the first and foremost educators of their children" [Gravissimum Educationis, 3]. Family catechesis aids families in becoming the domestic churches they are called to be. [Lumen Gentium] Learn more about Church support for family catechesis »
What makes Family Formation's catechesis program so successful?
Through our unique catechesis model, Family Formation equips parents to pass on the Catholic Faith to their children, and grow in their faith together as a family.
Family Formation was developed by the Catholic Church of Saint Paul in Ham Lake, Minnesota as a fresh approach to the difficulties we experienced with traditional religious education programs that only provided a role for parish workers in a child's catechesis. As a church, we recognized our ineffectiveness in teaching and forming children if their parents were not involved in the process.
As a result, we developed Family Formation with an adult formation component that teaches and trains parents in the Truths of the Faith, so that they can teach their children. This model provides parents with the tools they need to share the Good News and the beauty of the Catholic Faith with their children and to form them into true disciples of Jesus Christ.
Through engaging, down-to-earth, easy to understand lessons and activities, Family Formation brings parishes and families together to learn their Faith in joy and with excitement. This shared learning experience develops traditions and spills over into families' everyday lives—incorporating the Catholic Faith becomes a way of life! Learn more about the history of Family Formation »

Family Formation strives to provide solid catechesis driven by Sacred Scripture and in line with the teachings and authority of the Catholic Church.

The English translation of the Family Formation sacramental preparation curricula for First Reconciliation and First Communion as well as all Grades K-6 Home and Classroom Lessons are included on the USCCB's "Conformity Listing of Catechetical Texts and Series."
  The Spanish editions of the First Reconciliation and First Communion materials also appear on the Conformity List.
The Spanish editions of the K-6 Home and Classroom Lessons will be submitted for that review soon. 
I want to take a moment and let you know how much my family truly enjoys Family Formation. It amazes me how rich it is in our Catholic Faith. My children get so excited when the packets come in the mail, and I have learned so much while teaching them.

Angela, a family subscriber in Texas