Refined over 30 years, Family Formation is a Catholic family-based catechetical program developed by the Church of Saint Paul in Ham Lake, Minnesota.
Our Mission
Our mission is to help parents respond to the Church's call to be "the first and foremost educators of their children"* and to help families grow in the transforming love of God by understanding and living the Catholic Faith. *Gravissimum Educationis, 3
Our vision is to transform the world, one family at a time.

Family Formation: An Introduction
Family Formation is a tried and true model and curriculum developed by parents who were searching for a better way to convey and pass on the Truths of the Faith to their children.
History of Family Formation
Since its beginning in 1988, Family Formation has grown to serve thousands of families and parishes around the world.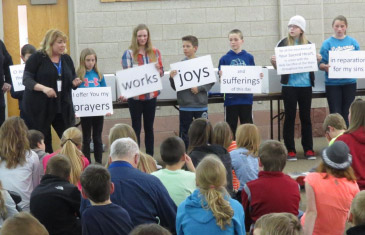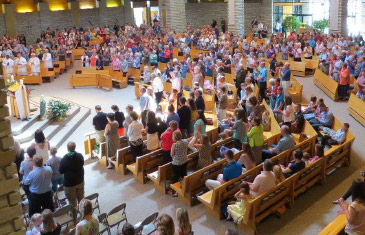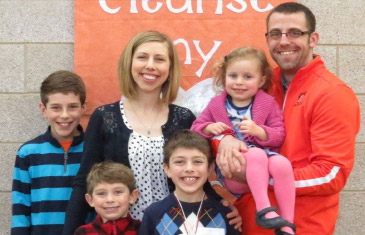 Many parents in our parish have shared inspiring stories of Truths of the Faith they were finally able to understand, or were introduced to for the first time, through teaching their children with the Home Lessons
With the desire for better and more successful religious education for their children, Family Formation was first developed in 1988 by the Church of Saint Paul in Ham Lake, Minnesota. By inspiration of the Holy Spirit through focused prayer, the model was set.  Curriculum was written and developed over a number of years by ordinary parents with regular lives. The lessons eventually underwent rigorous theological review.  Although it grew organically to meet a need we saw in our own parish, word began to spread about this unique model of catechesis that was bearing great fruit.  We began to receive requests from individual families, and then parishes, who wanted to follow suit. Through the use of Family Formation, parents report learning their Faith for the first time, families are returning to Sunday Mass and the sacraments, and family life and parish communities are being transformed.

Family Formation is flourishing throughout the world!
Family Formation's model and curriculum are being used by parishes and families across the U.S., Canada, and beyond.
Support for Parishes and Families
We work to make sure parishes and families have everything they need to implement the program successfully.
Beginning a new parish program can be very challenging. With 30 years of experience using Family Formation at the Church of Saint Paul, as well as insight gleaned from working with many other parishes, we are able to provide ongoing support and direction as you discern, implement, and use this family catechesis model.
Prayer is and always has been a critical component of Family Formation. Our parish maintains a core team of people that have been praying since its development for all parishes and families using Family Formation! While members of the team change over the years, their steadfast commitment to prayer remains constant. We strongly recommend to each parish that they also develop a "Core Team" to pray for the families in their program.
Ultimately, it is our hope that with each Home Lesson and gathering at church, you will begin to see sparks of light and conversion in parents and in their children!