Why Family Catechesis?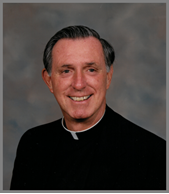 By Father Tim Nolan, Founding Pastor of the Church of Saint Paul
From my own experience growing up, I know how vital the family is in passing a living faith on to the next generation. In reflecting back on my formation, it's interesting what sticks with me. I went to Catholic grade school, Catholic high school, and Catholic college. I spent six years in the seminary and then went back and worked nine more years there. I had a lot of formation, but when push came to shove in my own life, what I remember most is what I learned at home. It was the faith that I experienced in my family life at home; it was the faith that wasn't so much talked about (though we did a lot of that, too) as it was the faith that was simply lived out day-to-day. I witnessed my dad kneeling by his bed, every night, praying. He wasn't doing it to impress us; he was doing it because God was important to him. He got up every day to go to Mass, again, not to impress us, but because he needed the Eucharist to do the work he had to do to raise his family. I caught a living faith from my parents that went beyond what I learned in Catholic schools or the seminary.
There is a receptivity and vulnerability to good formation, if you want to put it that way, which only happens in the early years in the family. I wanted our families to be able to embrace that time and use it to form their children well. It was on that premise that we changed from the CCD approach (which I believe never worked anyhow) to Family Formation. It was slow to get off the ground, but really had beneficial effects. I tried to help parents understand what Family Formation was really all about. It wasn't my training their kids, or my seeing to it that other teachers taught their kids. My goal was for parents to become so strong in their own faith and knowledge that they naturally shared the Faith with their children and brought the Faith into their family's everyday moments.
The challenge I presented to parents was for them to live the Faith, even behind closed doors at home, day in and day out, in a dynamic, believing kind of way so that their kids would "catch it" from them. In addition to that, the monthly lessons at church supported their efforts and further equipped them as parents to pass it on in the most effective way possible. The whole idea was to help them become stronger married couples and families in the Faith.
We then began to offer more support for couples in their own parenting skills as well as in their own personal relationships and personal spiritual growth, and we offered retreats for families. We want to continually hold out and promote God's plan for healthy Christian families. We put our focus there instead of majoring in the "hospital model" of support groups for the various forms of brokenness. We were very eager to teach and form the parents. We presented the Church's beautiful teaching on Natural Family Planning and on sexuality in their marriages so they could be sure they were following God's plan. God designed it all in a way that would bring greater blessings than they could ever receive otherwise.
The fruitfulness of this support, and some of the harvest, that delights my heart, is seeing the cumulative effect in our young people and the children in our parish: the way they worship, the freedom they have to praise and worship God, their obvious delight in God, the interest they have in the Bible and learning about the saints. I think it was most graphically demonstrated one year during Vacation Bible School, which is for our youngsters (three-year-olds through sixth grade). All 500 of these kids were together in church for Benediction after a teaching about the Eucharist, our theme for that year. Those kids were the most well behaved, the most devout I'd ever seen. There was more prayer going on in that church than I can ever remember with so many kids; they were really caught up in their faith and belief in the Eucharist and Jesus' Real Presence. It was kind of the capstone of all the efforts the parents had made with these kids through the years to really teach them the ways of the Lord and to bring them into that kind of relationship that doesn't just happen with a five-day VBS. We were experiencing the harvest and culmination of rich, concentrated, holy family effort over a long period of time.
The joy of Family Formation has brought great fruit to our parish, and I hope that it may bring great things to your parish as well. 


Founding Pastor of the Church of Saint Paul

Why Family Formation?
Learn more about the benefits of family catechesis and our program's successful model »