How Family Formation Works—for Parishes
Are you a Pastor, Director of Religious Education, or volunteer looking for a family catechesis curriculum that helps families grow in faith together? Learn how Family Formation works for parishes.
Family Formation's catechesis model combines monthly Classroom Lessons with weekly Home Lessons.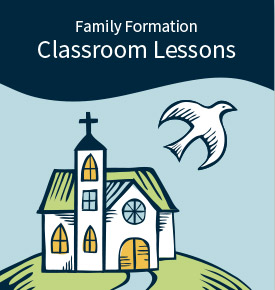 Classroom Lessons
During a monthly church gathering, children meet in grade-specific class settings while parents gather for adult catechesis. Learn more »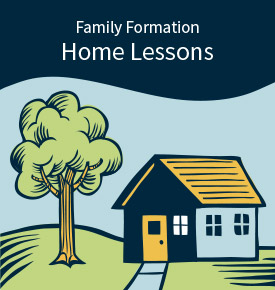 Home Lessons
Parents, equipped with materials and an understanding of the weekly lessons, teach their children the Faith. Learn more »
This model enables parents to be "the primary educators in the Faith."
[General Directory for Catechesis (GDC) 255]

Family Formation follows the three-year liturgical cycle, aiding families in developing traditions that integrate the seasons of the Church.
Driven by Sacred Scripture, lessons cover all the major principles of the Catholic Faith. See a complete overview (PDF) »
How Classroom Lessons Work:
Once a month, parents and children gather at church for 1 hour and 40 minutes to learn about the same topic of Faith. Down-to-earth, engaging and easy-to-use, the curriculum spans September to May. See what a typical month of Family Formation looks like (PDF) »
Through this time together as a parish, families are encouraged not only by parish staff, but by other families who are also undertaking the same task of raising their children in the Faith.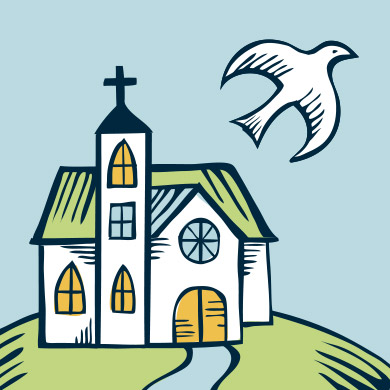 Classroom Lessons can be purchased in two formats:
Ready-to-Use Lessons
Print-Your-Own Lessons
MONTHLY CLASSROOM LESSONS:
Students in Grades K-6 meet in classes, divided by grade level, where trained catechists present the lessons. Ready-to-Use lessons include eight monthly lessons and supplies for one catechist and 10 students. Print-Your-Own Lessons are packaged in a manual which includes instructions for eight monthly lessons and a flash drive with all reproducible materials. See sample of Grades K-3 Classroom Lesson in English or Spanish. See sample of Grades 4-6 Classroom Lesson in English or Spanish.
Parents gather as a separate group where they are catechized, encouraged, and equipped. This adult catechesis component is key to the transmission of Faith in the home.
Preschool Classroom Lessons are available and can be used with this model or stand alone as a traditional Sunday School model. NOTE: These lessons are only available in Print-Your-Own format. See sample of a Preschool Classroom Lesson (PDF). 
How Home Lessons Work:
During the monthly gathering at the parish, families are given a packet of weekly lessons to use at home throughout the rest of the month. These Home Lessons are easy to use and have been developed and used by regular parents with normal, busy lives. The lessons bring the whole family together to study and then apply the teachings to their day-to-day family life.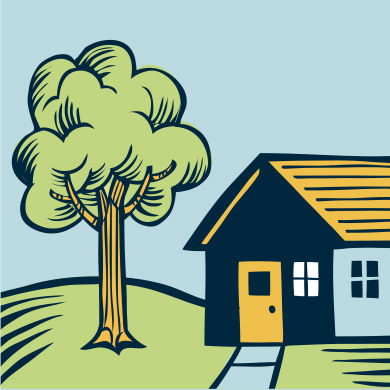 Home Lessons can be purchased in two formats:
Ready-to-Use Lessons
Print-Your-Own Lessons (Downloadable PDFs)
WEEKLY HOME LESSONS:
Have been developed for two age groups: Preschoolers and children in Grades K-6. These age-appropriate lessons cover the same weekly  topic. See a sample Preschool Home Lesson (PDF) »  See a sample K-6 Home Lesson (PDF) » 
Lessons for Grades K-6 take approximately one hour per week to complete. Preschool lessons take approximately 1/2 hour.
Learning is fun through games, activities, stories, memory verses, quizzes, and audios/music.
Lessons reinforce Sunday Mass, reflecting the liturgical year and immersing families into the life and seasons of the Church.
Grades K-6 Home Lessons are available in English and Spanish. See a sample Spanish Home Lesson (PDF) »
Catechist Training and Preparation
In preparation for the monthly parish gathering, volunteer classroom catechists meet one or two weeks before the monthly gathering for approximately 1.5 hours to hear the upcoming month's adult formation talk and to walk through the Classroom Lesson packet from which they will be teaching.
This training can be done by using the resources available on your dashboard (Adult Formation videos, Classroom Lesson Overview videos, etc.) included with the purchase of Classroom Lessons, or it can be presented by a trained leader from your parish.
Sacramental Preparation from Family Formation
In addition to Classroom and Home Lessons, Family Formation offers curriculum to prepare the children in your parish to receive the sacaments of Reconciliation and Communion for the first time. This curriculum may be used separately from the larger Family Formation program, but ideally they are designed to be used together.
HOW IT WORKS:
Children in sacramental prep meet in classrooms once per month at the same time as the Family Formation classes gather. These children are taught from Sacramental Prep Lessons instead of the regular Family Formation Classroom Lessons.
At home, parents use separate sacramental prep Home Lesson booklets to teach their child in addition to including them in the regular weekly Family Formation Home Lessons. These sacramental prep Home Lessons take approximately 15 additional minutes per week. See a sample lesson from the First Reconciliation Home Lesson Booklet in English or Spanish. See a sample lesson from the First Communion Home Lesson Booklet in English or Spanish.
Interested in beginning Family Formation in your parish?
We offer a Parish Intro Kit to introduce you to all of the pieces of the Family Formation program. See the kit »