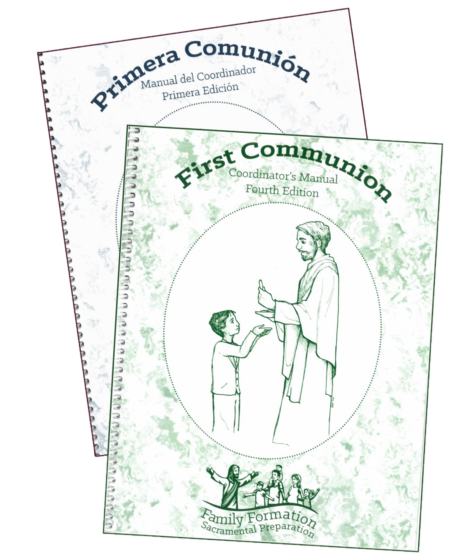 FIRST COMMUNION COORDINATOR'S MANUAL
Available in English or Spanish. USCCB approved.
The First Communion Coordinator's Manual contains reproducible monthly classroom lessons and materials that make it easy for coordinators to prepare children for this sacrament.
The manual is a one-time purchase and can be used from year to year. It also includes sample parent letters, a prayer service guide, and much more.
The First Communion Coordinator's Manual is used in conjunction with First Communion Home Lesson Booklets.
The Gift of the Eucharist video (available in English only) is to be shown during Lesson 3. This can be purchased in combination with the manual on this page, or separately here. Digital video download will be accessible from your dashboard.
Other sacramental prep resources: First Reconciliation Home Lesson Booklet and First Reconciliation Coordinator's Manual.
Item
Price
Qty.
Coordinator's Manual (English)
$54.95
Coordinator's Manual + video (English only)
$64.95
Coordinator's Manual (Spanish)
$54.95
Total
$0.00