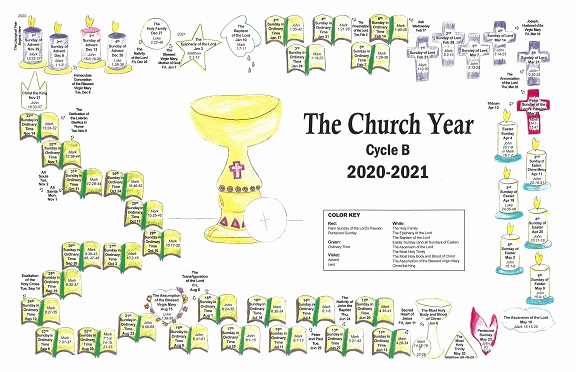 11X17 in size, the front lists Scripture references for Gospel readings and
provides the liturgical colors for each Sunday. The back includes prayers and
treasures of the Faith great for memorization. Recommended 1 per family
and 1 per classroom.
Available in English or Spanish.
NOTE: Ready-to-Use Classroom Lessons include current Ready-to-Color
calendars.
Liturgical calendars are available in two formats:
Ready-to-Color
Pre-Colored
Ready-to-Color Liturgical Calendar
Ready-to-Color liturgical calendars are printed in black and white with easy-to-follow instructions, ready for kids to add their artistic touch.
Pre-Colored Liturgical Calendar