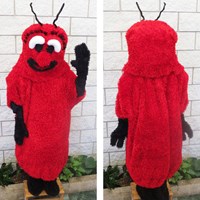 W.O.G. (WORD OF GOD) MASCOT
Handmade-to-order, life-size W.O.G. costume. Perfect fit for an average sixth grader. Enlist the help of your older Family Formation students to welcome families and children to your monthly gathering and to encourage daily Scripture reading.
$350.00 includes supplies, labor, and shipping. Contact the Family Formation office at 763-757-1148 to order. Please allow two months for delivery.