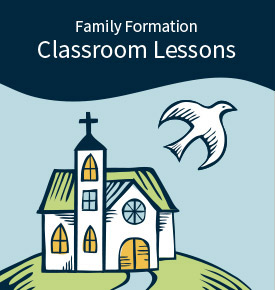 Classroom Lessons
Classroom Lessons are easy to use and engaging for students.  The monthly lessons are developed to follow the school year, October through May.  Lessons are written at two levels and easily adaptable for age-specific classes:  Grades K-3 and 4-6. (These lessons are not needed for sacramental prep classrooms.)
Classroom Lessons are available in two formats:
Ready-to-Use Classroom Lessons
Print-Your-Own Classroom Lessons / Coordinator's Manual
Ready-To-Use Classroom Lessons
With our Ready-to-Use format, parishes receive all of the lesson materials at one
time, pre-printed and ready to be used by classroom catechists. A planning guide is provided for the coordinator.
Ready-to-Use Lessons are available for:
Print-Your-Own Classroom Lessons / Coordinator's Manual
Print-Your-Own Classroom Lessons are packaged as Coordinator's Manuals which include lesson instructions and all files in a digital PDF format.
The Preschool Coordinator's Manual (also called Sunday Celebration) contains instructions, classroom lessons, and reproducible materials in PDF format. Each manual (Year 1 and 2) is a one-time purchase and can be used in any sequence.  NOTE: Since the lessons are on a two-year cycle, the topics differ from those of Grades K-6 Classroom Lessons.
Grades K-3 and Grades 4-6 Coordinator's Manuals are a one-time purchase for each of the three cycles, and can be used to print as many lessons as needed. (Cycles A/B and B/C are currently available. Cycle C/A will be available Spring 2019.) The manuals also include supply lists for classroom activities. You can purchase Supply Kits for Grades K-3 and 4-6 below or gather the materials yourself.
Print-Your-Own lessons are available for:
Preschool
Grades K-3
Grades 4-6